Most Homebuyers today are "surfing" the Internet on their own to search for their "Dream Home", without the representation of an Exclusive Buyer's Agent. Homebuyers are also contacting the Listing Agents/Brokers, who represent the Seller, to find their "Dream Home."

Most Homebuyers are unaware of the Conflicts of Interest created when contacting a Listing Agent/Broker or a Dual Agent/Transaction Broker by E-mail on the Internet, or by telephone, or by meeting in person at an Open House.
The Listing Agent/Broker already has and owes an obligation to work in the best interests of the SELLER of your "Dream Home.
A Dual Agent represents BOTH Seller and Buyer!
A Transaction Broker represents NEITHER Seller or Buyer!
Executive Avenue exclusively represents the Buyer Only and will provide the expertise and representation, acting as an Exclusive Buyer's Agent, to effectively negotiate, with the Buyer's Best Interests, the Best Purchase Price from the Listing Agent/Broker and Seller. The Buyer's Private Financial & Legal Information is kept Confidential and the Buyer's Needs and Negotiating Strategies are not disclosed to the Listing Agent/Broker and Seller.
Executive Avenue exclusively represents the Buyer Only throughout the entire home purchase process when dealing with the:
Seller
Listing Agent
Mortgage Broker
Lender
Appraiser
Home Inspector
Surveyor
Builder
Title Agent
Attorney/Settlement Agent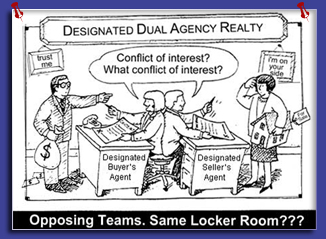 Exclusive buyer's brokers work only with buyers and don't take listings. They're obliged to help you find the best deals and lowest price. Unfortunately, agency standards have changed so much in the past ten years that real estate agents themselves are likely to be confused about their obligations to buyers and sellers, even though in most places they are supposed to give you a disclosure form explaining your relationship. Bottom line: You don't truly have an advocate in your corner unless you both sign a contract saying so.
— Kiplinger's Personal Finance Magazine

Free Consultation! Call us to see how we can assist you.