The BUYER asks: "Do you think the $1,000,000 Price is the best we can do?"
A Listing Agent/Broker might respond: "The Sellers have priced this house at $1,000,000 and it is a firm price and I do not believe that the Seller will accept a lower offer."
A Dual Agent/Transaction Broker might respond: "The Sellers have priced it at $1,000,000 after many hours of consultation. I can provide you with information about homes recently sold in this area if you would like. How would you like me to proceed?"
A Buyer's Agent/Broker might respond: "Before we came over to tour the house, I conducted a comprehensive and thorough investigation which revealed information about recent sales in this neighborhood, exposed the motivation of the Seller, and also discovered financial and legal issues that may affect your purchase of the property. Not a single similar home has sold for over $900,000 this year. If you would like to submit an offer, I would recommend something around $850,000 - $875,000. With the current sluggish market, I believe the sellers may be willing to sell for less and the risk of another buyer offering more is small. How would you like me to proceed?"
As you can see from the above Example:
A BUYER'S AGENT/BROKER is more like a BUYER'S COACH plotting strategy and setting up "plays" so that the BUYER will win.
A DUAL AGENT/TRANSACTION BROKER is more like the OFFICIAL or REFEREE making sure everything is done properly without promoting one side over the other.
A LISTING AGENT/BROKER is more like a SELLER'S COACH plotting strategy and setting up "plays" so that the SELLER will win.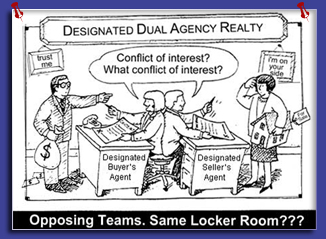 Many large firms have indulged in the lucrative practice of "in-house sales" in which only one company is involved in listing the property and producing the buyer. In other words, the same company acts as the seller's agent and buyer's agent in the same transaction to pick up the 6% or so set aside to pay two agents. Recent laws passed in Texas, Georgia, Illinois, Minnesota, and Colorado would appear to minimize broker liability for this "double dip."

Nevertheless, until the industry gets used to old-fashioned rules of loyalty, you should remember that you are the boss in this market, and you set the terms of employment. When you engage a broker or attorney to act as your agent, you should look for companies that subscribe to a "single agency" policy or "exclusive buyer agency" policy. Steer clear of companies that offer disclosed dual agency as a policy. Remember, the first question you should ask your broker is: "whom will you represent?"

- Consumer Reports

Free Consultation! Call us to see how we can assist you.